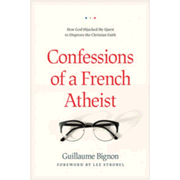 Confessions of a French Atheist: How God Hijacked My Quest to Disprove the Christian Faith
By Guillaume Bignon / Tyndale Momentum
Scheduled for release June 7, 2022
I love Christian apologetics. I wish I was better at it, but when I need help, I turn to
Lee Strobel's A Case for Christ or
Tim LaHaye's Jesus: Why the World is Still Fascinated with Him.
I now have a third reference, Guillaume Bignon's Confessions of a French Atheist.
Mr. Bignon weaves his story into his apologetics so seamlessly, you aren't even aware it is apologetics until you're two-thirds through the book. He wasn't an athiest on a whim or because he didn't like God, Guillaume obviously spent a good deal of time developing his anti-diety beliefs. I love his honesty in sharing his life and the lengths he went to ensure he didn't give up or adhere to any beliefs to please others or fill his own agenda. I believe this is a must read for those who want a balanced view of atheism and Christianity as well as someone who thinks they might want to be an apologist.
---
The links that take you out of my website are affiliate links.
I receive a small portion of the book sale from Christian Book Distributors or Amazon.
My honest review was given at no cost to the author or publisher.