As people of faith, it is vital that we vote. It's also important to note that those votes we cast speak volumes to our Creator. Recently, I've been reading the some of the greatest prayers of the exile. Daniel, Ezra and Nehemiah all provide excellent examples of what the prayers of humble, repentant leaders look like. These are the kinds of prayers that will turn a country around.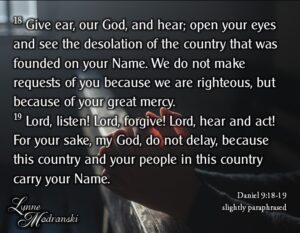 In Daniel 9 we read his prayer of repentance and light. He recognized that we humans don't have any right to make requests of a Holy God. Answers to prayers have nothing to do with our righteousness. God answers because He is merciful. Yes, obedience does help with answered prayer, but if we forget that our righteousness looks like filthy rags to God, we also forget our place in the Kingdom. Daniel asked God to intervene for the sake of the Almighty. Daniel wanted the answer to His prayer to bring glory to Yahweh's name.
Contrast that with our most recent prayers. Do we pray for our nation? Do we pray so that God might be glorified? Or have our prayers become selfish wish lists? It's easy to do with so much evil and devastation haunting us.
Likewise, Ezra 9 shows us a prayer of humility. Ezra had done nothing wrong. He had every right to pray with condemnation toward his fellow countrymen. Instead, he said, "I am too ashamed and disgraced, my God, to lift up my face to you, because our sins are higher than our heads and our guilt has reached to the heavens. . . Because of our sins, we and our kings and our priests have been subjected to the sword and captivity, to pillage and humiliation at the hand of foreign kings . . . we have forsaken your commands." This innocent leader took responsibility for the sins of the nation because he wanted his country to find healing.

Finally, let's look a Nehemiah's prayer in the first chapter. If we read the entire book, we realize this man was as holy as they come. He prayed over every situation. He fasted so he could know God's will. Still, when he felt Yahweh's nudge to lead a wall-building team, his prayer went like this: "I confess the sins we Israelites, including myself and my father's family, have committed against you. We have acted very wickedly toward you. We have not obeyed the commands, decrees and laws you gave your servant Moses."
I would like to be able to vote for men and women with hearts like Daniel, Ezra, and Nehemiah. We need leaders who care deeply for their country and want to honor God in its rebuilding, but it seems as though that kind of man or woman doesn't run for office. As we prepare to head for the polls, perhaps our prayers need to change a bit. If every God follower prayed prayers of humility and repentance and took responsibility for the sins of our country how would our nation change. After all, if Christians had been praying and sharing more for the last hundred years perhaps our nation wouldn't be the shape that it's in now.
Join me as I vote and pray for the restoration of my homeland with repentance, humility, and praise.