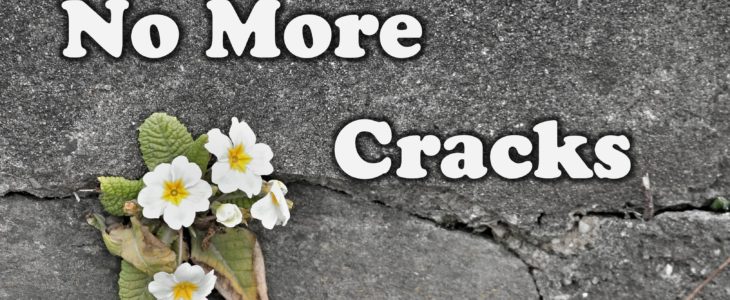 No More Cracks
April 19, 2019
The light has come into the world,
and people loved darkness rather than the light
because their deeds were evil.

John 3:19
I was mudding recently, and as I did the finish work, I remembered some scripture. Before I go there, though, I should probably tell you what mudding is just in case you haven't done much construction. Mudding is the process of putting dry wall plaster (ie: mud) on the walls to hide the seams. In my case I was getting rid of the ridges in paneling.
The final step is sanding it smooth, making sure all the ridges are filled and there aren't any bumps. Before you quit, the best thing to do is sit a light almost parallel to the wall and let it shine. And just like that, I thought I was done and the light showed all the flaws in the plaster.
Four times in John Jesus calls Himself "The Light of the World." Two more times John describes the Savior as such. As that bright light revealed all of my plaster faux pas, I thought about how Jesus does the same thing.
Most people aren't "evil," not in the way we think of the word. Even before I began walking with Christ I don't think anyone would have used that adjective to describe me. I was always a goody-two-shoes. If you'd have asked me what I needed to change before I gave my life to Jesus, I'd have mentioned a couple of tiny flaws so I didn't appear conceited, but in general I was a good person. People liked me, and I tried to help others.
But that's what it looked like before I turned the light on.
When we begin to walk with Jesus, we are in the light, and like the walls I was working on, when the light shines on us we begin to see things that didn't show up in the darkness. Flaws and mistakes, things that might be described as evil by a perfect and holy God are revealed. I think it's one of the reasons some folks never get very far in their walk with Christ. It's easier to walk out of the light, "love the darkness," than to let Him sand off the rough edges and fill in the tiny ridges.
But easier is almost never better.
Jesus wants us to have the best life possible. He said He came to give us abundant life. But it comes when we walk in His light. 1 John 1:7 says "If we walk in the light as Jesus is in the light . . . His blood purifies us from all sin." Jesus came to get rid of the cracks, the ridges and the bumps! Sometimes the purification process is a little tough. It's our nature to want easy, but I've decided, I don't want easy, I want better!
So I pray today you are walking in the Light, letting Him highlight every ridge, crack and bump; so Jesus Christ can finish you to perfection, and you can live the most abundant life possible!
Image by Manfred Richter from Pixabay